Thanks to George Foundation for donation to 2022 scholarships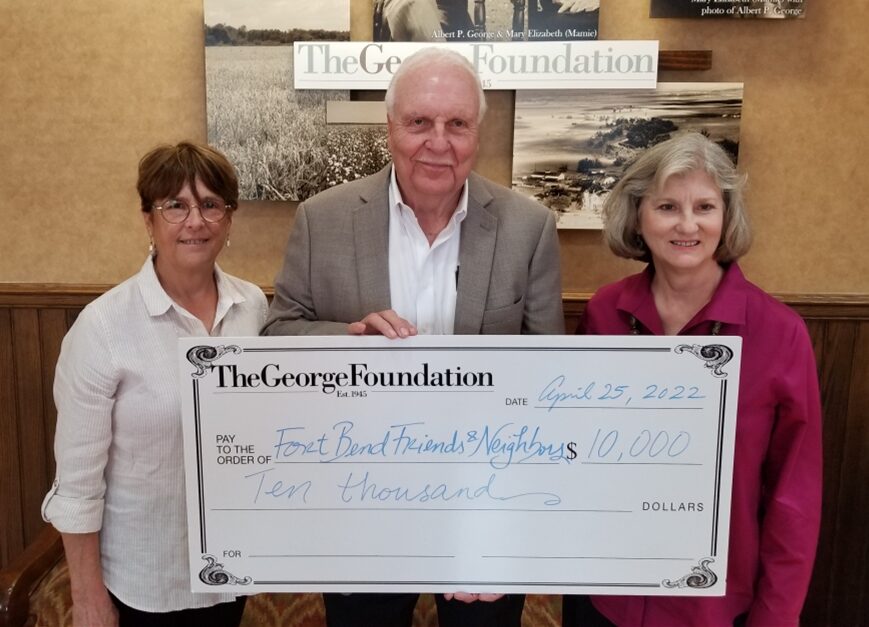 FBFN Foundation has provided over $305,250 to 145 scholarships in 18 years!
10 Scholarships of $2500 each were granted in 2022!
Scholarship Application opens Jan 2023



The FBFN Foundation Scholarships are for students who are US citizens and Fort Bend County residents, who graduate from a Fort Bend County public high school and go to college at a campus in Fort Bend County. This would include Houston Community College – in Stafford or Missouri City, Wharton County Junior College – in Sugar Land or Richmond, Texas State Technical College – in Rosenberg, and the University of Houston – in Sugar Land.
The scholarship committee of the FBFN Foundation considers the applications on the basis of need, academics, activities, recommendations and the student's personal letter. Perceived need is the first priority. All scholarships are contingent upon the qualifications of applicants and the availability of funds. Payment will be made in 2 installments directly to the institution.
Applications are available from your high school College and Career Advisor, your college Financial Aid Office or below.
| | | | | | |
| --- | --- | --- | --- | --- | --- |
| Year | Number Awarded | Amount of each | Total for Year | Grand Total - Number | Grand Total - Money |
| 2005 | 6 | $1,000 | $6,000 | 6 | $6000 |
| 2006 | 6 | $1,000 | $6,000 | 12 | $12,000 |
| 2007 | 7 | $1,000 | $7,000 | 19 | $19,000 |
| 2008 | 6 | $2,000 | $12,000 | 25 | $31,000 |
| 2009 | 6 | $1,000 | $6,000 | 31 | $37,000 |
| 2010 | 7 | $1,000 | $7,000 | 38 | $44,000 |
| 2011 | 10 | $2,000 | $20,000 | 48 | $64,000 |
| 2012 | 6 | $2,000 | $12,000 | 54 | $76,000 |
| 2013 | 4 | $2,000 | $8,000 | 58 | $84,000 |
| 2014 | 5 | $2,500 | $12,500 | 63 | $96,500 |
| 2015 | 6 | $2,500 | $15,000 | 69 | $111,500 |
| 2016 | 10 | $3,000 | $30,000 | 79 | $141,500 |
| 2017 | 10 | $2,500 | $25,000 | 89 | $166,500 |
| 2018 | 10 | $2,500 | $25,000 | 99 | $191,500 |
| 2019 | 13 | $3,000 | $39,000 | 112 | $230,500 |
| 2020 | 11 | $2,500 | $27,500 | 123 | $251,500 |
| 2021 | 12 | $2,500 | $28,750 | 135 | $280,250 |